It's another week and I have been swamped at work, so not too much fun with posting anything. BUT I did get to look at a few link parties and saw this fun blog...
http://takeitfrom-me.blogspot.com/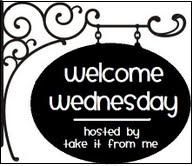 Not only were there great Blogs in the Blog Hop, but some great ads! And the Blogs were everything from Food to How to survive a Teacher's Salary...of which my daughter is a teacher so a lot to relate to there! So look below for some very cool topics!
When I left NC to move back to FL, I brought back some cool "old" windows and did a few fun things with them, so when I come back tomorrow I will share those. Speaking of windows....Moving with antiques and alot of delicate glass items is always tricky. Besides bubble wrap and moving blankets, I had to get creative when we ran out of all that stuff! I used the piles of old towels and old comforters that can be easily washed later. No need to buy more bubble wrap! I just taped them all around and safe and secure!
Anyway enjoy looking at these blogs....